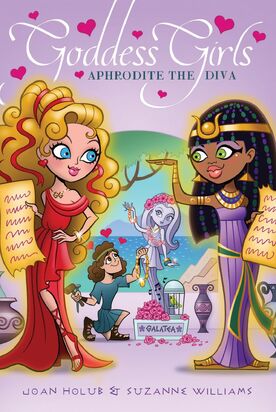 Aphrodite The Diva is the sixth book in the Goddess Girls (Series).
Summary
After a tiny accident (okay, so maybe starting the Trojan war isn't so tiny) Aphrodite is failing Hero-ology. To raise her grade, she concots a brillinat plan: an extra credit project for match-making mortals called the 'Lonely Hearts Club'. This takes her to Egypt and face-to-face with fierce competition: a goodessgirl named Isis. Now a race is on to see who can find the perfect girl for the most annoying mortal boy ever!
Ad blocker interference detected!
Wikia is a free-to-use site that makes money from advertising. We have a modified experience for viewers using ad blockers

Wikia is not accessible if you've made further modifications. Remove the custom ad blocker rule(s) and the page will load as expected.