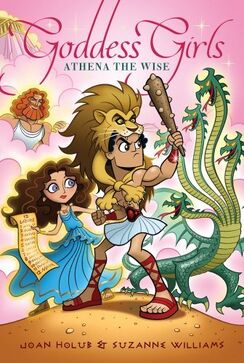 Athena The Wise is the fifth book in the Goddess Girls (Series), it was published on April 5th, 2011.
Summary
When a new mortal named Hercules transfers to MOA, Athena understands what he's going through. She'd started only a few months ago herself! But not only does Hercules need help fitting in, he needs to complete 12 "Labors" or be kicked out of the academy! When Athena's dad, Zeus, asks her to sercretly look after the boy, she winds up catching magical beasts, shoveling poop and feeling something special between them. It will take all of her famed wisdom to sort out her own problems and help Hercules succeed!
Ad blocker interference detected!
Wikia is a free-to-use site that makes money from advertising. We have a modified experience for viewers using ad blockers

Wikia is not accessible if you've made further modifications. Remove the custom ad blocker rule(s) and the page will load as expected.