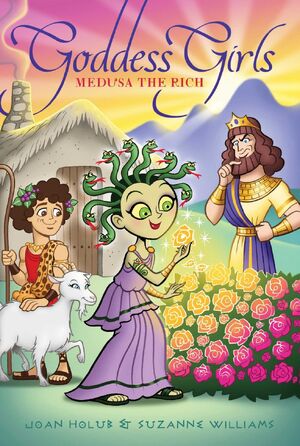 Medusa The Rich is an upcoming book in the series.
Plot
Medusa discovers that having the golden "King Midas" touch has its ups and downs in the sixteenth Goddess Girls adventure.
When Medusa suddenly becomes able to turn objects into gold just by touching them, she is thrilled. Gold, gold, everywhere! But it's not just objects that become golden—it's also food, and, even people! Her new ability turns out to be more dangerous than delightful, but can she do anything to reverse it?
Ad blocker interference detected!
Wikia is a free-to-use site that makes money from advertising. We have a modified experience for viewers using ad blockers

Wikia is not accessible if you've made further modifications. Remove the custom ad blocker rule(s) and the page will load as expected.